Clearing of Funds
As customers conduct fund transfers to parties which holds accounts with different banks, credits and debts will arise between these banks. For example, if customer X who holds an account at Bank A executes a customer transfer of 1 million yen to customer Y who holds an account at Bank B, then Bank A will be indebted to pay 1 million yen to Bank B. The funds settlement between these banks does not entail the delivery of cash between the banks for each transaction. Through a clearing system, these banks make a lump settlement once a day by decreasing or increasing the balance of their current accounts held at the Bank of Japan (BOJ).
Note: The Zengin System settles 100 million yen or larger fund transfers through BOJ-NET's Real-Time Gross Settlement System.
Zengin - Net as a Fund Clearing Agency
As Zengin - Net executes around 6.5 million transactions between banks amounting to around 12 trillion yen per day, relationships of funds clearing which should be conducted between banks become very complex and gigantic in scale. As a funds clearing agency (central counterparty), Zengin - Net assumes the debt of the sender's bank and obtains the credits of the recipient's bank for each transaction. It then reorganizes the complex debtor-creditor relationships between banks into a debtor-creditor relationship between each member bank and Zengin - Net.
This system bears the important role of enabling the fund transfer system, which covers all banks in Japan, to withstand risk and to run smoothly and efficiently.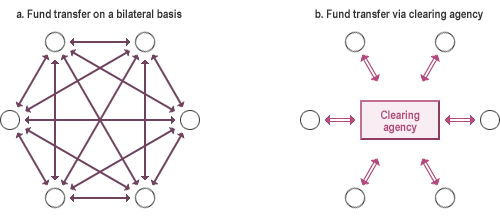 In this way, Zengin - Net conducts funds clearing by reorganizing the gigantic amount of lending and borrowing of funds among banks which accompany fund transfer transactions.
The "Payment Services Act" came into force in April 2010 defines these operations, or the business of assuming debts stemming from fund transfer transactions borne between banks for clearing credits and debts pertaining to fund transfer transactions, as the "funds clearing business." It also established a licensing system for the business. Zengin - Net obtained a license in September 2010 and began operations in October of the same year.
Business Operations Based on the Statement of Operation Procedures
As a funds clearing agency, Zengin - Net assumes the role of concentrically bearing the risk pertaining to credit transfer transactions. Due to this, should Zengin - Net not be able to smoothly carry out operations for any reason, the risk would spread to all banks participating in Zengin - Net and may greatly impact the national economy. Therefore, the Payment Services Act sets forth measures to ensure that funds clearing agencies appropriately execute the funds clearing business. Through these measures, the law requires that said agencies prepare a system for appropriately executing operations, even in the case that participating banks become insolvent or a system failure occurs. Furthermore, it requires that said agencies set forth said procedures as their "Statement of Operation Procedures" and obtain their approval by the Prime Minister.
Zengin - Net has set forth the Statement of Operation Procedures and has obtained approval from the Prime Minister.